Clínico 24 horas MAPA compatible con transmisión de datos Bluetooth Hingmed WBP-02A Bluetooth
Clínico 24 horas MAPA compatible con transmisión de datos Bluetooth Hingmed WBP-02A Bluetooth


2

Páginas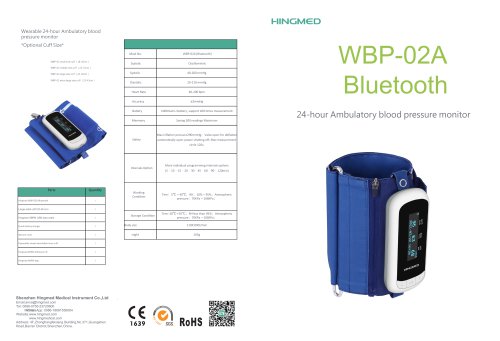 Extractos del catálogo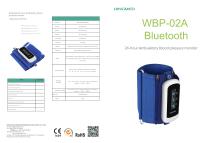 Wearable 24-hour Ambulatory blood pressure monitor *Optional Cuff Size* Moel No. Systolic WBP-02 small size cuff (18-26cm) WBP-02 middle size cuff (22-32cm) WBP-02 large size cuff (22-36cm) WBP-02 extra large size cuff (33-43cm) Heart Rate 1000mah Li ba�ery, support 200 �mes measurement Saving 300 readings Maximum Max infla�on pressure290mmHg;Valve open for defla�on automa�cally upon power shu�ng off; Max measurement circle 120s. More individual programming intervals op�ons Intervals Op�on Working Condi�on Hingmed WBP-02A Bluetooth Large adult cuff (22-36 cm) Hingmed ABPM USB data cable Quick ba�ery charger Body size Silicone cover Disposable sweat absorbable inner cuff Hingmed ABPM So�ware CD Shenzhen Hingmed Medical Instrument Co.,Ltd Email:anna@hingmed.com Tel: 0086-0755-23720600 /WhatsApp: 0086-18681556084 Mobile Website:www.hingmed.com www.hingmedical.com Address: 4F,Zhonghangfeixiang Building,No.371,Guangshen Road,Bao'an District,Shenzhen,China. Tem:-20℃-+55℃;RH less than 95%;Atmospheric pressure
Abrir la página 1 del catálogo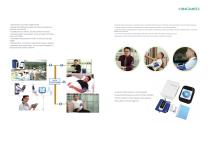 • Clinical level, accurate measurement. • Strong anti-interference ability and good consistency in dynamic environment. • Double pressure sensor, double protection function. • Ultra-low power consumption, it can be tested 100 times with a full charge. • Wearable blood pressure monitor, small size and light weight. • Body position monitoring to help blood pressure analysis. • Bluetooth data transmission, can be used to establish a blood pressure network platform. • Programmable measurement, realizing 24-hour ambulatory blood pressure monitoring, and measuring the most true blood pressure. •...
Abrir la página 2 del catálogo
Todos los catálogos y folletos técnicos Shenzhen Hingmed Medical Instrument Co.

Comparar hasta 10 productos